Ghosts of Caernarfon Castle
Located in Gwynedd Wales on a peninsula bounded by the River Seiont and the Menai Strait, Caernarfon Castle was built by Edward I of England as part of his iron ring of castles to control Wales.
Caernarfon Castle has a distinct pattern of stone that make up the outer walls, resembling the walls of Constantinople that Edward saw firsthand during the Crusades. Edward used Caernarfon has his seat of power in Northern Wales. The castle was never fully completed as attentions and finances turned to support the struggles in Scotland, but it was attacked a few times by the Welsh and also saw action during the English Civil War when it was besieged three times by Parliamentarian forces trying to uproot Royalists hiding within the castle.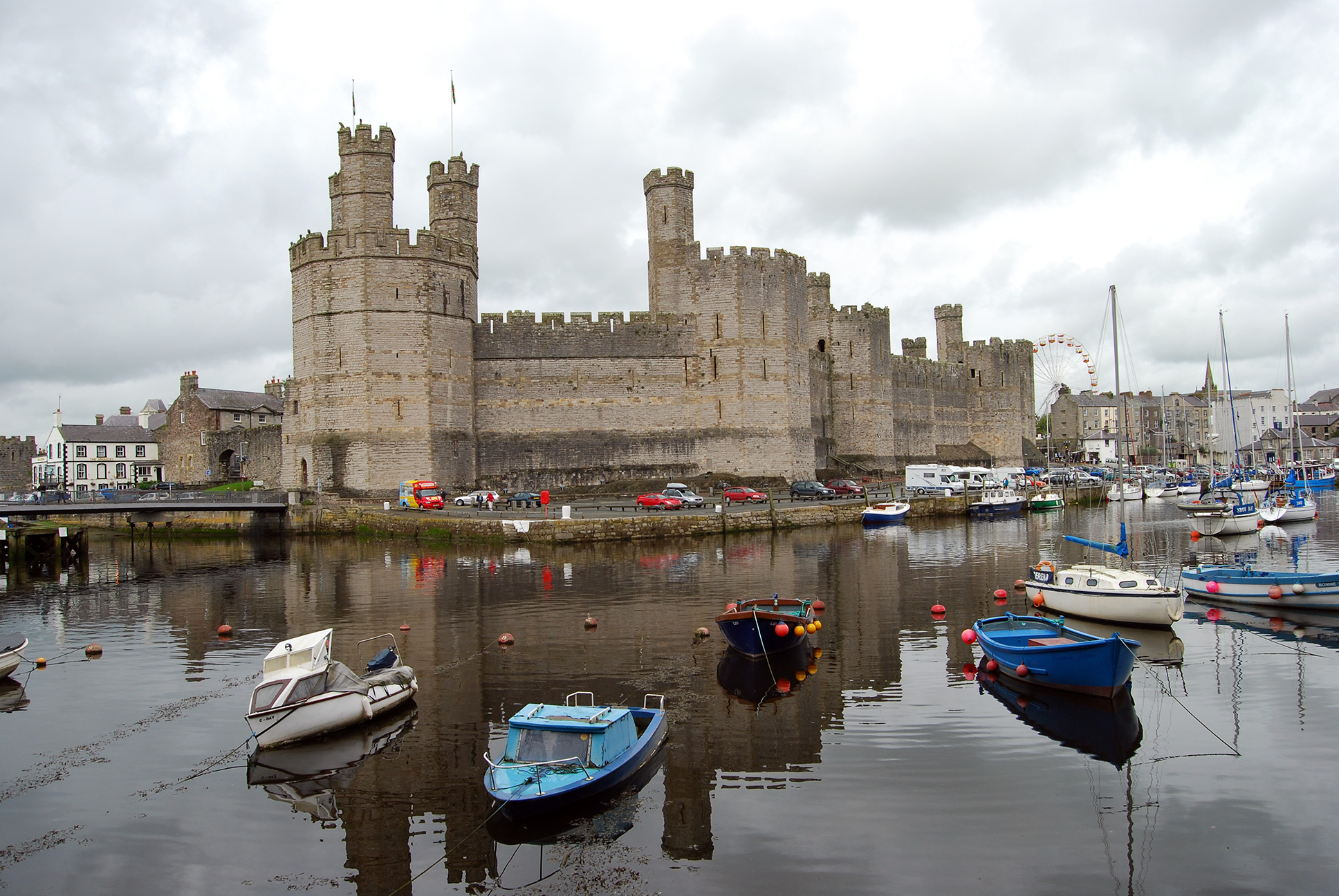 Given its turbulent past, it is no surprise that Caernarfon Castle has some resident ghosts ...
Though one is not the ghost of a medieval or Roman soldier as one might suspect, but of a woman. The ghost of this female and sometimes glowing phantom has been spotted floating through the air, down the corridors of the castle. It has been reported that electrical equipment left at the castle overnight has been found tampered with upon returning to the castle the next day, often unexplained and then ascribed to the Floating Lady of Caernarfon Castle.
There is also the ghost of a blueish white figure caught on camera in 2001.
As Richard tells the story ...
On August 11, 2001, an American tourist, Kristi Ormand from Dallas, Texas, visited Caernarfon Castle and climbed to the top of the Eagle Tower, from where she proceeded to take photographs of the castle interior. Although she saw nothing at the time, she was aware of "feeling a presence," but believed it to be caused by the history that surrounded her. When she returned to America and began downloading her images, she noticed that one photograph showed a strange, white figure surrounded by a blue mist, standing in a castle doorway. On closer inspection she thought it looked like, "a small king, with his scepter, a crown, and a cloak on." None of her other photographs showed the image, although it did appear on a videotape she had taken of the same doorway.

The photograph has since been the subject of animated debate among ghost enthusiasts. Some believe that Kristi may well have caught a spectral apparition on camera, while others attribute it to either lens flare or some reflective, though non-ghostly, object that was in the vicinity of the doorway at the time.

- Richard Jones