History
In 1245, Burg Rheinfels was built by Diether V. von Katzenelnbogen along west bank of the River Rhine near village of St. Goar and served as primary residence for counts of Katzenelnbogen. It was not long before the castle was unsuccessfully besieged between 1255 and 1256 in response to price increases of Rhine tolls. The siege lasted more than two years.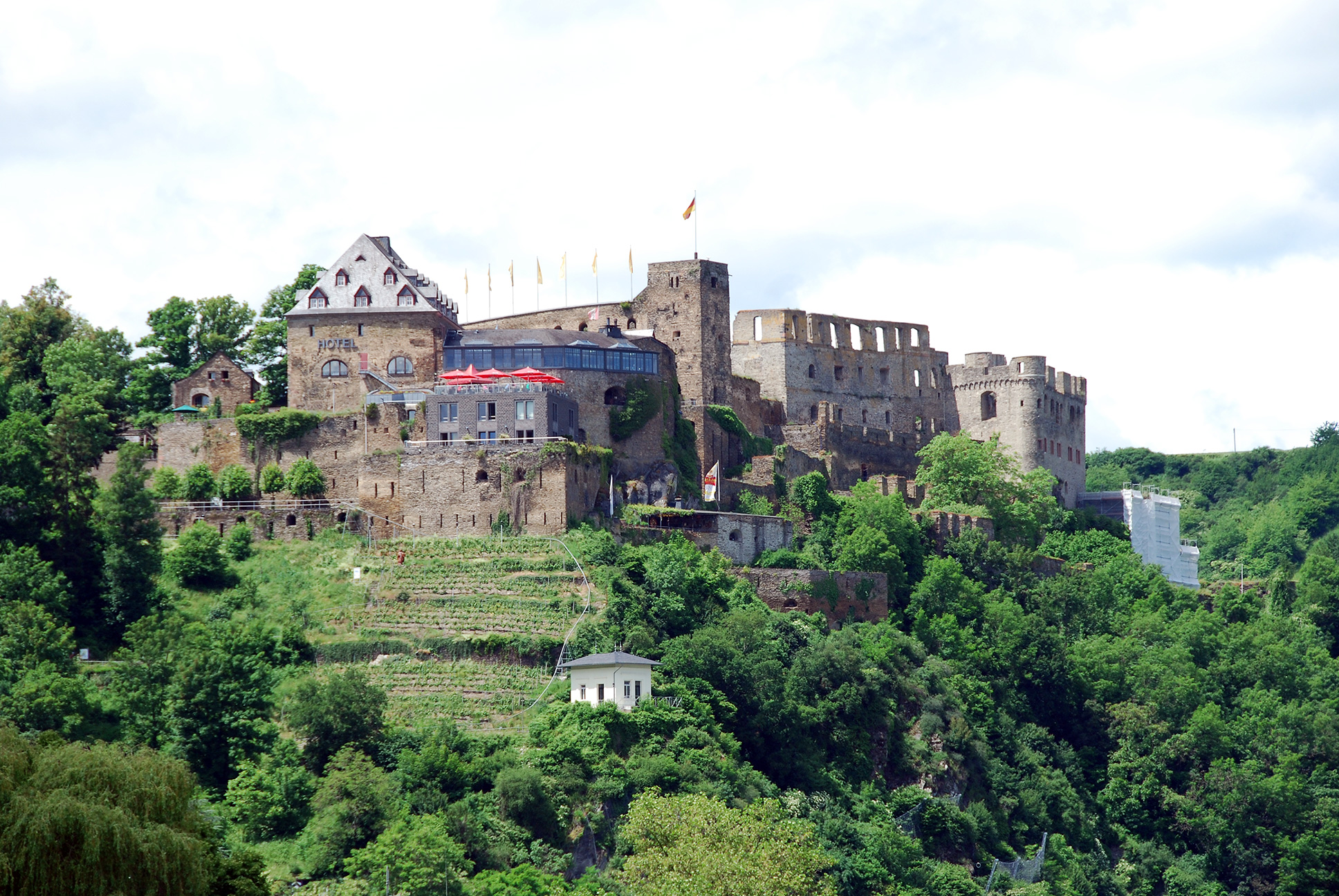 The Gerstenberg Chronicle stated:
"In the Yeare of Oure Lorde 1255, the Poweres of the Rheynsh cyties with their Masters and other friendes, and possessed of a gode General set off and destroyed the Robber Barons' Castles which had caused so much trouble in the Holy Roman Empire and rose up against us. In this, they desired to do away with the unjust levie of tolls on the Ryne wherein more than LX cyties were Partie to an Alliance.
In the same Yeare they rose up against the Graf von Katzenelnbogen, his Castle, called Rynefels and remained encamped there a whole Yeare and XIV Monthes, but neither could take or destroye the Castle."
In 1479, the male line of the House of Katzenelnbogen ended and Burg Rheinfels passed to Heinrich III of Hesse, husband to daughter of Phillip von Katzenelnbogen. Between 1497 and 1527, Wilhelm III von Hessen-Kassel fortified the structure by adding outer defenses beyond deep ditch in area of the castle known as Biebernheimer Felde. Approximately 40 years later between 1567 and 1583, Phillip II von Hessen added a royal residence.
Slightly more than a century later in 1692, the castle was unsuccessfully besieged again, this time by a French Army comprised of 28,000 soldiers. However, the French returned about a century later in November 1794 and seized the castle without resistance. The French briefly occupied Burg Rheinfels before destroying the outer defenses in 1796, as well as its keep in the following year. In 1812, remains of the castle were auctioned as French state property and purchased by Peter Glas, a businessman from St. Goar who sold shiploads of stone, in addition to doors and window frames. The ruins were purchased roughly three decades later in 1843 by Prince Wilhelm of Prussia. In 1925, House of Hohenzollern bequeathed the castle to town of St. Goar with agreement they would preserve the ruins for posterity.
Castle Highlights
Despite its ruinous state, Burg Rheinfels and its massive stone walls represent the largest castle along Middle Rhine Valley between Mainz and Koblenz. As a result of its vastness, best views of the castle may be attained from Rhine River or bank opposite of the river. Interior of the castle may be visited via two different self-guided tours. With its very tall ramparts and limited remnants of interior buildings, it can be challenging to distinguish different parts from one other. In addition, highly recommend picking up a map and guide upon entering to avoid getting lost. The entrance gate and Clock Tower with its giant wooden doors viewed at beginning of the tour constitute single ingress and egress path of the castle.
The chapel and adjacent vestry, which remain intact after more than seven centuries, currently serve as a local history museum. The Great Cellar constructed during 15th century may also be visited. Its 12-foot thick walls were used to store wine and provisions. Burg Rheinfels can be explored in half a day. While Burgs Katz and Maus are located directly across the River Rhine from Burg Rheinfels neither is open to the public. The closest castle on left bank of the Rhine open to visitors is Burg Schonburg located down the B9 towards Bingen.